Happy New Year! The holidays are over and the new year has started! Now is the time when you set intentions on what to focus on in the coming year, so don't forget about your house when making all these great changes and plans. Many times, when making new year resolutions we focus on our health and financial goals but it's important to think about your house goals too.
You most likely had a home inspection completed when buying your home but may not have looked at it again after closing. This is a great time to come up with a to-do list on what to focus on in your home and evaluate what areas of your home need extra help. Don't forget to add in some standard home maintenance, when determining what areas of the home to focus on first. By following the simple steps below, you will be sure to come up with great goals for the coming year focusing on your home.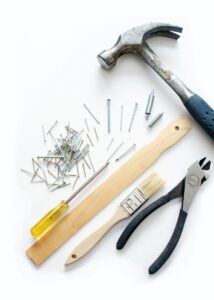 Walk Through Your House and Critique It
When living in your home it is easy to let things go that aren't a major repair or live with things that do not seem a top priority to fix. Take time at the beginning of the year to walk through each room in your home and critique it as if you were looking at it for that first time.
When you review each room at a time it allows you to make notes on all the minor things that need to be fixed. Be sure to write down simple things like a mark on the wall that needs to be repainted or even a loose doorknob. Simple things often go overlooked when you live in a home for a while so it's nice to go by room by room to write down all the little fixes. Make sure you also write down major repairs that need to be done as well. Some of these quick fixes can help give a space a fresh clean look too!
List All Major Projects You Want To Tackle In Your Home This Year
When you begin to compile all the small things in each room in your house you may even notice some major things that aren't necessarily a repair but you simply want to change. Make sure you write out all the projects you wish to complete this year. For example, if you wish to update the carpet in the master bedroom, repaint the hallway or completely remodel the kitchen this year make sure you write it down on your major project list.
This might be a great time to pull out your home inspection report as well to see if there are any major repairs that you might want to complete from that list as well. When compiling this list be sure to write down an estimated budget for each project and preferred deadline. This will help you when deciding what project takes priority later on.
Make Note of Any Home Maintenance for the New Year
As you are taking an inventory of all the work that needs to be done in your home it's important to make a note of any home maintenance that needs to be completed along the way as well. For example, if you know your roof needs to be replaced sometime this year make sure you add that to the projects list and set a budget and deadline for it just like the other projects. You will also want to make sure you write down things like changing the filter in your HVAC system, keeping up on the outside of your home and any other home maintenance tasks you tackle each season on the list of projects as well.
Prioritize And Make A Plan
Looking at all the items you have added to your home critique list, home project list, your previous home inspection report and your home maintenance list can definitely be a bit overwhelming for anyone. The best thing to do is prioritize what items need to be done first. You should start by deciding if you want to jump right into one of the major projects first or if you wish to get a lot of small things out of the way.
When prioritizing be sure to pay attention to the budgets you have set for the projects as well. For example, if you don't have it in your budget to replace all the floors in January it might be a better time to focus on touch-up painting a few walls in the house instead. Make sure you create your list in the best way that works for you. Some people prefer a notebook with colored highlighters designating what items are a priority and other people will compile everything in an organized excel spreadsheet. Whichever option you choose just make sure you refer to it throughout the year to help keep you on track with your house goals.
A new year means new goals, so be sure to take time and come up with some great house goals you wish to complete this year! Taking an in-depth look at your house, inspecting each room and listing out all the projects you want to complete is a great way to keep you on track this year. When making a list of everything you wish to complete be sure to set realistic budgets and timelines to help keep you on track, too.